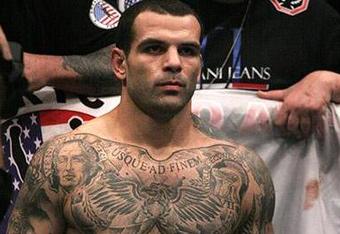 Alessio Sakara
Den italienske
UFC
-fightern
Alessio Sakara
kommer till
Stockholm
och
Globen
den 14 april för att på
UFC Sweden
möta amerikanen
Brian Stann
i en fight i mellanviktsklassen.
Sakara
som har varvat sin MMA-karriär med att gå professionella boxningsmatcher har ett matchfacit på 8 vinster och 1 förlust inom proffsboxningen, i
MMA
har han idag ett matchfacit på 15 vinster och 8 förluster samt en no contest.
I en intervju med
buddhasport.com
får vi höra vad
Sakara
tycker om att fightas i
Sverige
, hans önskan om att få möta Michael Bisping och vem han anser är den bästa boxaren i
MMAn
.
"I'm very healthy and properly prepared for this fight.

I'm working on my strength and conditioning with a great rugby coach. I feel stronger than ever right now," säger Sakara om sin nuvarande fysiska form. "I need to fight. Fighting is my life and I feel very strong at the moment. I really want do something good for the fans and for my family and put on a memorable fight,"
Brian Stann
På frågan om mötet med
Brian Stann
säger
Sakara
att han hoppas att hans motståndare vill testa sin boxning, men att det
inte
spelar någon roll om dem hamnar på marken. Han tackar även UFC för att de satt ihop denna matchning.
"I hope he will want to test his hands against me but I actually would like to go to the ground too.

I have really prepared myself well to fight on the ground, especially after the Weidman fight. Brian is a great fighter and a great athlete; perhaps my toughest opponent yet.

I really want to thank the UFC for giving me this great opportunity to fight someone like Brian Stann in Europe of all places. I think it's a very good fight. We both like to stand and bang so this is a matchup I really like."
UFC har visat att de vill nå ut till så många länder som möjligt i Europa och UFCs delägare Lorenzo Fertitta har själv sagt att Italien är en av de marknader UFC vill besöka, så här säger Sakara om att gå en potentiell match i Italien och han berättar även vem han vill möta i oktagonen om det blir aktuellt.
"It would be a dream came true to fight in

Rome

!

I don't know when it will come here but it would be an honor fighting in my beautiful city! It's a place where so many men fought and died in combat. I would also still love to fight Bisping in Rome. It could be like a champions league Italy vs England. It's a soccer thing. Italy has always had a rivalry with England and that fight would be huge here."
"I have many supporters there and lots of Italians are coming to watch so I am very happy to be fighting in Sweden. Also MMA is very popular there so it will be fun to fight for them and put on a good show," säger Sakara om att fightas inför den svenska publiken i Globen.
The best I don't know because there are many different good boxers in MMA. I would say maybe Belfort or Diaz but if I can choose one I think the best technical striker is Melvin Manhoef." svara Sakara på frågan om vem han anser är den bästa boxaren inom MMAn.
Sakara har tränat med båda coacherna för TUF Brazil, Wanderlei Silva och Vitor Belfort och om vem han tror vinner den fighten svara han så här:
"I will go with Vitor but I think it's a good matchup. It could go either way."
Avslutningsvis berättar Sakara i intervjun att han och några andra har startat en MMA-organisation för nybörjare vid namn Legionaris League där alla intäkter går till en välgörenhetsorganisation för handikappade och berättar samtidigt varför de valt att göra på detta sätt.
"We have started a promotion for beginners called Legionaris League.

All the money goes to help charity and handicap institutes. We like to make MMA social to prove that we are not animals in the cage but real athletes that care and can help people,"
Ni kan besöka
Alessio Sakara
på hans hemsida:
http://www.alessiosakara.tv/