I nattens avsnitt av
InsideMMA
på
Hd.Net
redogjorde den legendariske boxningstränaren
Freddie Roach
, som bland annat tränar
Manny Pacquiao,
för vilka han ansåg vara de fem bästa boxarna i
MMA
-världen. Det ska tilläggas att
Roach
tränar eller har tränat fyra av fem på listan. Se hela listan efter brytet.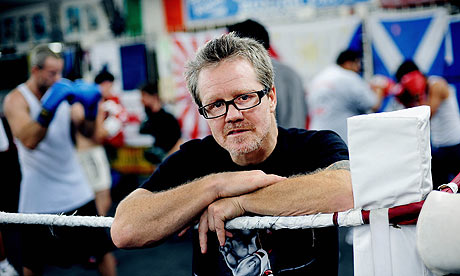 5)
K.J. Noons (11-5 MMA)
--
"K.J. is always in my gym and he's very dedicated with his work ethic. I just love his tenacity in the ring. He comes to fight and he's all about action."
4)
Nick Diaz (26-8 MMA)
--
"Nick Diaz is one of the most exciting fighters in the world, today. He's great with his hands. He gets sidetracked a little bit, like in his last fight, but I think he'll a great comeback. I'm looking forward to facing him with "GSP" someday, 'cause there's a lot of talk about that."
3)
B.J. Penn (16-8-2 MMA)
--
"You know, B.J., he's one of the best strikers I've ever faced, and that I've ever been in the ring with. It's been quite a few years ago, and I think he's close to retiring right now, but I'd call him the "James Toney of MMA," because his weight would fluctuate quite a bit. He'll fight from low weights to heavyweights. He'll fight anyone in the world. He's a good guy to be around, and he's just a hard, hard worker and a great striker."
2)
Georges St. Pierre (22-2 MMA)
--
"'GSP's' one of the greatest guys in the world. He's a real gentleman and one of the best students I've ever had. I asked him, 'How long did you go home and practice in front of the mirror last night?' Because if I show him a move, he comes back with it the next day, and you know he practiced all night in front of the mirror. So, I love the guy. He's a good guy and a hard worker, and that's what it's all about it hard work."
1)
Anderson Silva (31-4 MMA)
--
"I had the honor of working with Anderson Silva, when he was in our gym for about five or six days in a row. He told me, 'I'm pretty good at MMA, but I'm not too goo at boxing.' He's just a real humble guy and very talented. He is one of the best guys that really understands distance and timing. He fights off the ropes a little bit. I told him that can be a little bit dangerous sometimes and to be careful, but he'll suck you in, he'll set you up, he's one of the most intelligent fighters I've ever seen and have ever worked with."