Dne 14 april går
UFC on Fuel TV 2 (UFC Sweden)
av stapeln i
Ericsson Globe Arena
i
Stockholm.
Huvudmatchen kommer att vara mellan den svenske
UFC
-stjärnan
Alexander Gustafsson
(13-1 MMA, 5-1 UFC) och den brasilianske fightern
Thiago Silva
(14-2, 1 MMA, 5-2, 1 UFC)
.
I en intervju med
lowkick.com
berättar
Silva
mer om bland annat frånvaron från oktagonen, sin fight med
Gustafsson
och hans mål med karriären. Se intervjun efter brytet.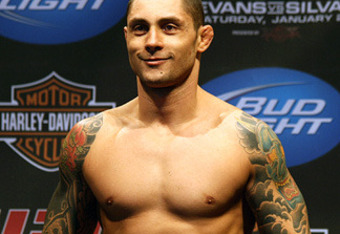 Thiago Silva
Some people are talking about how "ring rust" could affect your chances to defeat Alexander Gustafsson. Can you talk about your training camp for April 14th, and whether "ring rust" will be an issue in Sweden?
The fact that I have not fought in a year will not affect me at all. I have been rehabilitating my injuries and training harder than ever to prove that I am one of the best fighters in the world. I am ready and healthy. April 14th in Sweden will be an amazing night!
You are one of the heaviest strikers in the UFC, with 5 KO/TKO finishes. What do you think about Alexander Gustafsson's striking skills? Do you consider him dangerous as a stand-up fighter?
Gustafsson is a very good fighter and I have respect for his abilities. Also, anything can happen with a great striker who is wearing the small MMA gloves. However, I'm excited by the challenge of fighting Gustaffson in his home country. I fear no one and plan on fighting a fast paced and aggressive fight that will entertain the fans.
Do you feel any pressure to finish this fight via KO? Just to make a statement, or perhaps to remind the fans around the world about Thiago Silva?
No, I don't feel any pressure. I'm going to fight hard as always I do and win.
You're a BJJ black belt, but most of your fights are in stand-up. Do you think this fight will go to the ground at some point?
I don't know yet, but I will find the best way to win. I will look for openings and take advantage of them. I'm a man of opportunity and I will look for the best one.
Can you talk about being unable to fight for one year, and how it affected your mindset as a fighter?
I make my living and support my family by fighting, so the worst part of this past year was that I was not able to provide for my family. The experiences of the past year will make me more motivated to fight and win.
Due to back injury and suspension you fought only twice since the victory over Keith Jardine back in 2009. What are your current goals as a fighter? Where do you see yourself in the mix for a shot at the title?
I think I'm a good fighter and I have potential to a champion one day and I will work hard to get it. I have healed my injuries and have been training very hard. The fight in Sweden will showcase how much I have improved and how hungry I am to win.
What is your prediction for the fight with Alexander Gustafsson – Submission / KO / Decision?
My prediction is that I will fight hard like a true warrior. Everybody knows my style. When I step in the Octagon, I go to kill or die, and I will do the same on April 14th, and I will be ten times more aggressive because this fight is very important for me.
Glöm inte att Tävla om 2 st biljetter till UFC Sweden-galan den 14 april i Globen, Stockholm.